USACM Submits Comments for Security Research DMCA Exemption
By Paul Hyland
December 23, 2017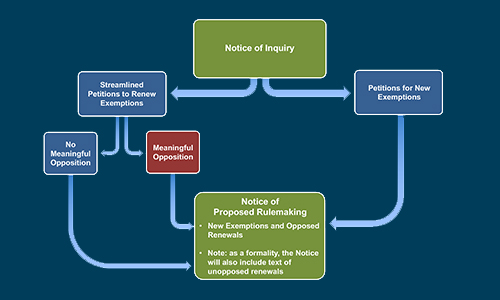 On December 19, USACM submitted a short comment to the Copyright Office in support of an exemption to the prohibitions against circumvention of copyright protection technology, as outlined in Section 1201 of the Digital Millennium Copyright Act (DMCA). This proceeding is part of the Seventh Triennial Section 1201 Proceeding (2018). The period for submitting the initial round of supporting comments closed Monday; there will be additional rounds for opposition and reply comments later this winter, followed by hearings next Spring in Washington, DC and California, with further communications TBD.  The most current details of this process, including known dates, are contained in the Notice of Proposed Rulemaking (NPRM).
Our comments support an exemption for Proposed Class 10: Computer Programs—Security Research, which would expand an existing security research exemption — already renewed from the previous round of petitions under a new, expedited process (more info below). Professors Edward Felten and Alex Haldeman petitioned for both renewal and expansion of the exemption they had been granted during the previous round, in 2015. They have submitted and continually refined proposed classes of exemptions since the second round in 2006, working with a varying lineup of other eminent computer security researchers and policy analysts.
USACM argues that this exemption for security research is vital, and needs to be expanded, because the current exemption needlessly limits the scope of permissible research topics, the methods of conducting such research, or related activities. These constraints extend beyond the core purpose of preventing copyright infringement, while creating uncertainty that could stifle important research. We specifically note that limiting research to include only those technologies used either by consumers or for land travel arbitrarily leaves out important technologies already impacted by computer security vulnerabilities, not to mention those not even imagined — in line with our oft-repeated opposition to policies that reference specific technologies, and thus often fail to adequately account for the unpredictable course of technological development.
---
Two years ago, the Copyright Office issued Notices of Inquiry seeking input  for a series of studies covering various controversial aspects of the DMCA and how it is enforced. USACM provided comments for one of these, the Section 1201 Study, which issued its final report in July. (Our comments were cited in several footnotes.)  One recommendation adopted by the Copyright Office was to streamline the approval process for the renewal of uncontroversial exemptions granted in the previous round. Read about this new process on the main Section 1201 Rulemaking page.
---